[English below!]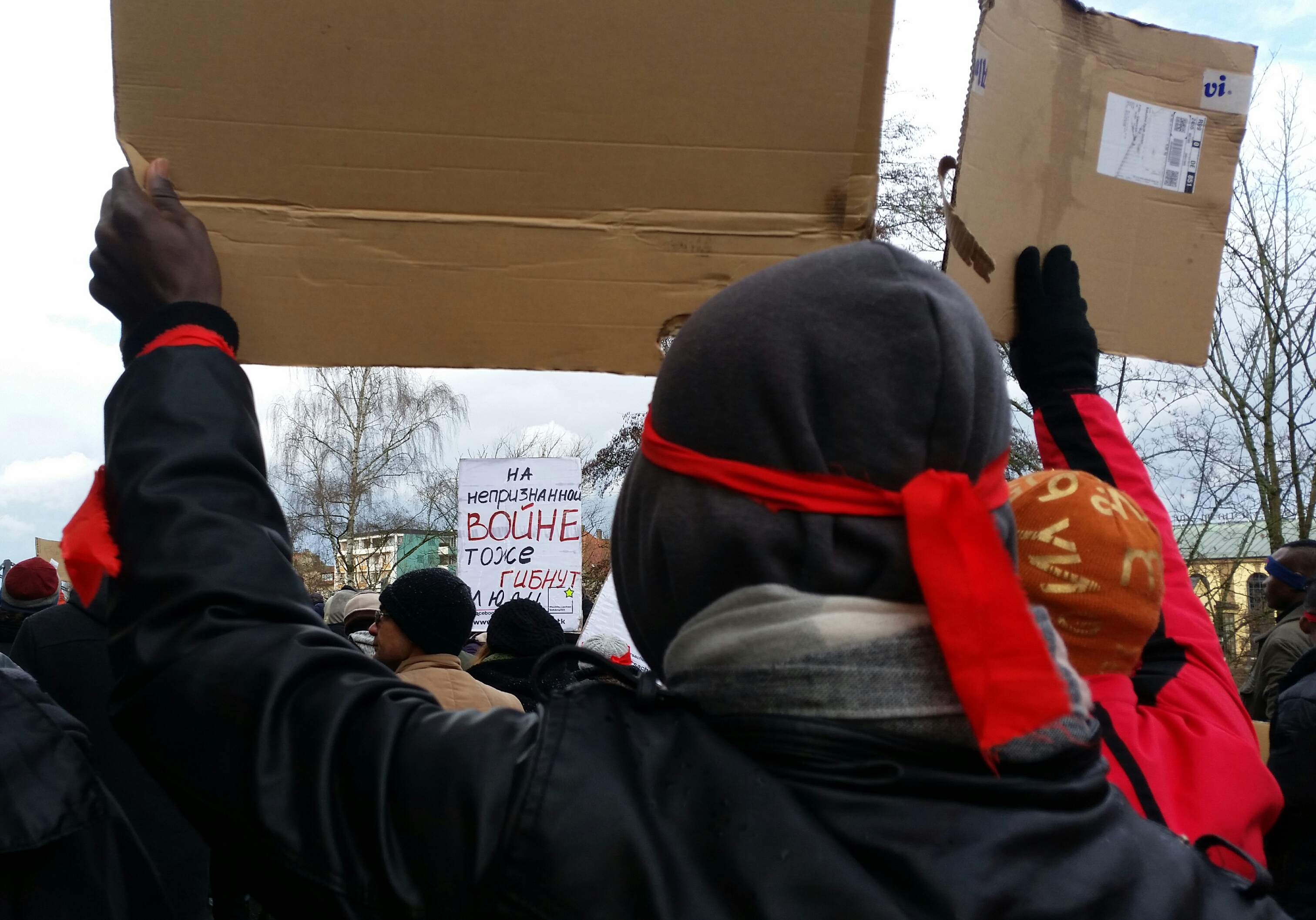 Menschen aus dem Abschiebelager Bamberg riefen alle geflüchteten sowie solidarischen Menschen und Organisationen auf, sich mit ihnen auf der Straße gegen das Abschiebesystem auszusprechen. Aktivist*innen aus anderen Abschiebelagern und aus den verschiedensten antirassistischen Gruppen und selbstorganisierten Initiativen schlossen sich lautstark dem Protest an. International Women Space, Internationales Frauencafe, Refugee Struggle For Freedom, Deggendorf Immigrants und viele viele mehr machten gemeinsam die Konsequenzen des Abschiebe- und Lagersystems in verschiedenen Reden sichtbar.
Im Rahmen der Abschlusskundgebung vor dem Bamberger Rathaus, warteten die Protestierenden solange, bis sich der Oberbürgermeister zeigte. Er wurde mit den verheerenden Zuständen konfrontiert. Vor seinen Augen brach eine der Rednerinnen, mit ihrem Kind im Arm, während ihrer Ausführungen zusammen. Ein Krankenwagen musste gerufen werden. Das Kollabieren der Rednerin, ein Zeichen von massivem Stress, ließ den OB dennoch mehr oder weniger unbeeindruckt. Schließlich versprach er nichts weiter als die leere Phrase, dass er mit dem sogenannten Bundesamt für Migration und Flüchtlinge binnen 1 Woche reden werde. Charmanterweise wurde noch ein Stadtbus (vgl. letztes Bild) bestellt, der die Protestierenden schnell wieder ins Lager abseits der Öffentlichkeit verfrachten sollte. Zurück im Abschiebelager geht die Unterdrückung weiter. Repression bis ins kleinste Detaille; Allen – auch den Kindern – werden die Trillerpfeifen von den Securities abgenommen.
Wieder und wieder werden Protestierende im Sinne der Verantwortungsdiffusion vertröstet. Auch dies muss mit Hinblick auf §63 Abs. 2 des Bundesbeamtengesetzes als Farce betitelt werden. So heißt es ", wenn das aufgetragene Verhalten die Würde des Menschen verletzt", ist der*die Beamtin zur Niederlegung der Dienstanweisung verpflichtet. Auf den bürokratischen Duktus der Verantwortungsweitergabe, lässt sich hiermit nicht mehr berufen.
Video über den Protest. Reden in verschiedenen Sprachen. Gespräch mit Bürgermeister und der städtischen Pressesprecherin.
---
People from the Bamberg deportation camp called on all refugees, as well as people and organizations that stand in solidarity to take to the streets with them in order to speak out against the deportation system. Activists from other deportation camps and various anti-racist groups and self-organized initiatives joined the protest loudly. International Women Space, International Women's Cafe, Refugee Struggle for Freedom, Deggendorf Immigrants and many more made the consequences of the deportation and Lager system visible in various speeches.
During the conclusive rally in front of Bamberg's town hall, the protesters waited until the mayor showed up. He was confronted with the devastating conditions. In front of his eyes, one of the speakers collapsed during her speech with her child in her arms. An ambulance had to be called. The collapse of the speaker, a sign of massive stress, left the OB more or less unaffected. After all, he promised nothing more than the empty phrase that he would talk to the Federal Office for Migration and Refugees (BAMF) within one week. Charmingly enough, a city bus was ordered (see last picture), which was to transport the protesters quickly back to the camp, and away from the public. Back in the deportation camp, repression continues. Repression down to the smallest detail; the whistles used on the protest are taken from everybody – including the children – by the securities.
Again and again, protesters are put off and confronted with a diffusion of responsibility. This, too, must be described as a farce with regard to §63 para. 2 of the Federal Civil Servants Act (Bundesbeamtengesetzes). It says "if the behavior ordered violates the dignity of the human being", the officer is obliged to resign from their official instructions. It is no longer possible to point to the bureaucratic style of responsibility transfer.
Video about protest. Different speeches in different languages. Talk to mayor and pressspokeswoman from the city.
---