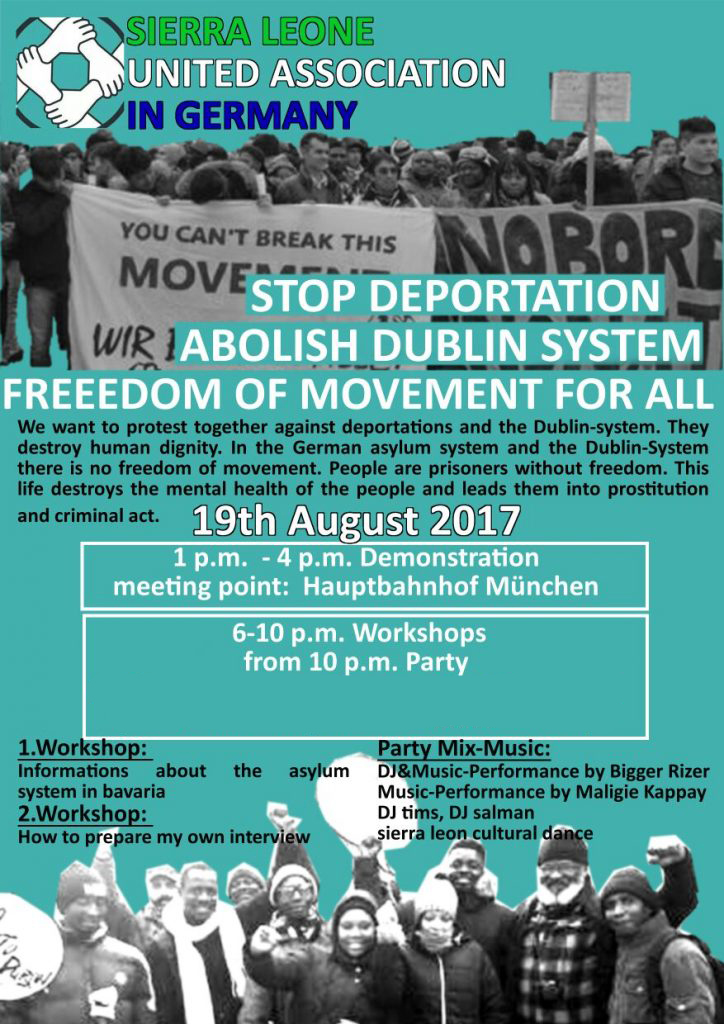 Organizers: Sierra Leone United Association in Germany
We want to protest together against deportations and the Dublin-system.
They destroy human dignity. In the German asylum system and the
Dublin-System there is no freedom of movement. People are prisoners
without freedom. This life destroys the mental health of the people and
leads them into prostitution and criminal act.
Demonstration: "Stop deportations! Abolish the Dublin system! Freedom of movement for all!"
Start: 1 pm at Hauptbahnhof München
Workshops:
Start: 7 pm (place will be communicated later)
How to prepare my own interview? (Arrival Aid)
Informations about the Asylum system in Bavaria
Party:
Start: 10 pm (Arabellapark, address will be communicated later)
Mixed-Music from Turn Tables: Bigger Rizer DJ&Musics-Performance / Music-Performance by Maligie Kappay / DJ Tims / DJ Salman / Sierra Leone cultural dance
Event language: English / German translation possible / more translations have to be requested before // Englisch / Deutsch ist möglich / andere Sprachen müssen vorher angefragt werden